Check out key price skimming advantages and disadvantages and get to know how to benefit by using this strategy.
What Is E-commerce Price Skimming? And Why Should You Use It?
Fancy going into the price skimming strategy behind and discovering your inner marketplace integrity? If you've got a product where novelty is important, we've got you covered!
Being the true art of setting high prices for products at an introductory point, price skimming is a popular pricing strategy that is played mostly by eCommerce tech behemoths. It's a short-term pricing strategy that can bring solid profits. By default, the main goal here is to get the maximum profit within the shortest time possible, but the actual value along with the fun will not stop here, right? It's one of the best ways to let you expand and conquer new markets.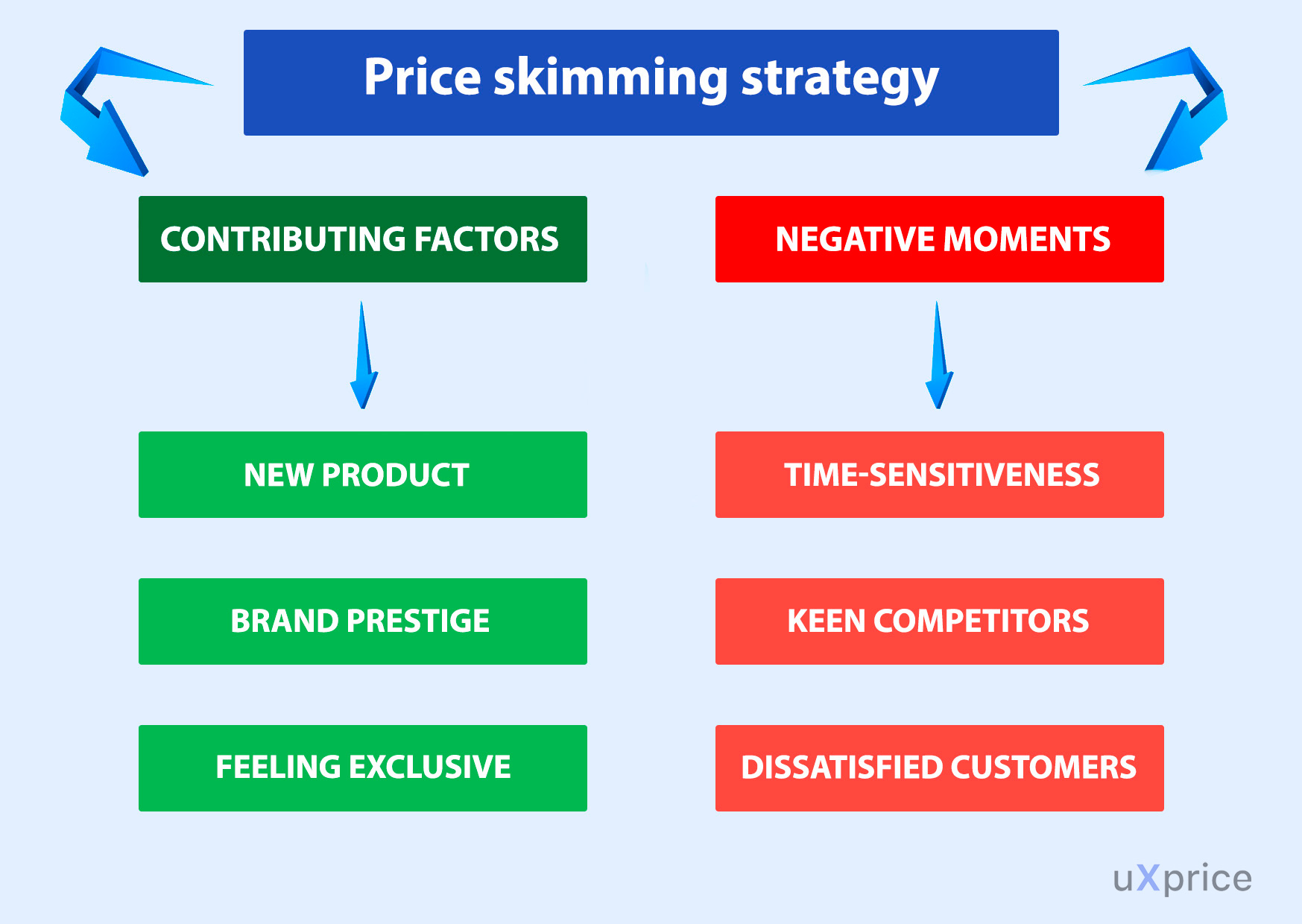 Ironically, results matter when it comes to business, and this strategy can be a real killer. Wondering how? So, here it is. Key advantages the skimming pricing strategy has to offer are as follows:
Fast income. While your product is at its freshest, skim off the top market segment you are appealing to. That way, you'll end maximizing your profits early on.
An aura of prestige that builds brand loyalty. With a higher price tag, premium brands like to convey a sense of exclusivity and people love being extraordinary or VIP. That's what it can offer to your brand.
Great influencers. Market skimming is targeted at 'early adopters' who are less price-sensitive as they are willing to get their hands on the item before others could actually do this. They pay for their feeling of exclusivity. Meanwhile, for you, working with innovators and having your brand's early adopters is a win-win scenario. It leads to a new market place penetration with a tremendous influence.
It goes without saying that when we have advantages, there might be disadvantages, right? The main disadvantages of price skimming include the following:
Time-sensitiveness. It cannot last for long, as competitors are likely to soon launch rival products, putting pressure on the price.
Keen competitors. There will be a continual stream of competitors aiming to get to your extreme price point with lower-priced offerings.
Dissatisfied customers. Early adopters of the product may be highly annoyed when the brand later reduces its price for the product, resulting in poor publicity and a serious customer loyalty reduction.
Price skimming examples
As we already know from the price skimming definition, this strategy is used to maximize profits at the moment when a new product or service is being deployed. Such products are often purchased by the so-called 'early adopters' who pay a higher price to have the latest or best product. Let's make it clear by using some practical price skimming strategy examples.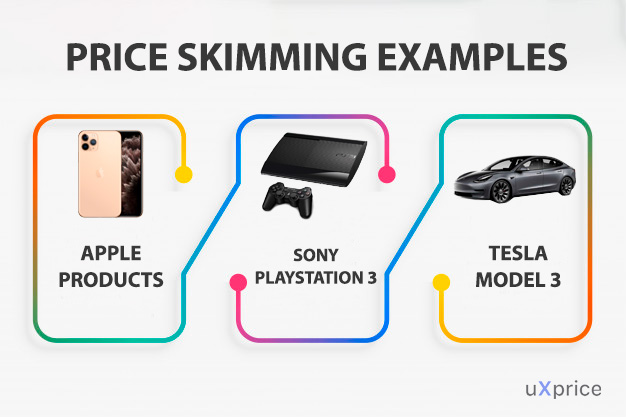 Undeniably, Apple is best known for using the price skimming strategy. But it has added its own twist to it. Unlike all companies that launch their products with a high price tag and then lower their prices later, Apple sets a price, which it later maintains and defends by fundamentally adding the value of their products in all its further activities. Consider the following: over the past half of the decade, the average sales price of the iPhone has been around $200 – $650. Prior to every new iPhone release, we always have rumors before the announcement even takes place. Once it's time for the actual announcement there has already been enough excitement, boosting the buyer's appetite for a purchase.
As a result, we can see hundreds if not millions of soon-to-own iPhone users camping outside the store to be one the first to get their hand on the latest model. Up to this point, there are lots of those who prefer to pre-pay for their model weeks before they even get the phone. Without doubts, Apple's skimming pricing strategy is a success.
Another goodie that effectively uses the skimming marketing strategy is Sony PlayStation 3. For example, the famous Playstation 3 was at first sold at $599 in the US market. Within some time, its price has finally declined to below $200 later.
Up to this point, Tesla is a prime example of using this strategy as well. It delivers something really outstanding – a self-driving, zero-emission car. In April 2016, it had a reservation of 325,000 pre orders in the first week of its launch for Model 3. On top of that, being the largest battery manufacturing plant holder, Tesla boosts its sales and meets the high and increasing demand of people. That way, Tesla manages to hold an edge over its competitors.
A skimming pricing method: how to effectively use it
A skimming pricing strategy is a truly effective marketing tool provided a company releases a product in limited initial runs, showing signs of scarcity and prompting a limited supply cycle with an over-the-above demand. However, price skimming is neither the only strategy nor is it the only superior strategy. It is just one of many marketing strategies.
Note down some tips on how to effectively use it:
1. Use it with the product that none of your competitors can offer. Dare to offer something unique and outstanding. That way, your price-insensitive customers and risk-takers will want to get it. When your customers know that your product is unique/best/ most sophisticated, they understand why your price is higher.
2. Target innovators and early adopters. Bear in mind that despite wanting to try something new, these people are looking for the next 'best' thing. They've got a problem to solve – an easier/better/faster way of delivering, banking, and so on. Innovators are constantly seeking – researching, signing-up to be the first to try before there's even a product on the market. So, market your product with regards to their problems and ensure that you do offer a perfect solution. By the way, the best way to motivate early adopters is to get them excited about your product and what it can offer them.
3. Know when it's time to lower your prices. It's important to evaluate your business on a regular basis to ensure that you're on track to succeed. Don't be quick to lower your prices, especially if there's still a chance to keep your prices high. It's a common practice to consider lowering the price once the consumer demand for your product significantly falls, or your competitors start selling the same or similar product at a lower cost. Find a decent service for competitors' price monitoring and analysis, such as uXprice. It is a cloud-based solution that delivers 100% accuracy in terms of price monitoring. Our software lets you adjust your own settings and timetables to monitor your competitors' prices, be it everyday or any other customly arranged time. What is especially good about uXprice is that apart from price monitoring, it comes with such helpful features as the false prices option, which sites normally mix to protect against scraping and the prices for out of stock products. So, there you have it, with our robust software, price optimization in retail made easy and hassle-free. Up to this point, with uXprice, our customers increase their sales up to 30%, so join them to boost your sales!
4. Finally, respect your customers and try to keep them engaged and motivated. It's important to proceed with caution to make sure you're being fair and honest with your customers. Always! At the end of the day, happy customers lead to repeat business, you know. So, ensure your customers are happy with your products.
Key Takeaways
Cynical though it may be, it's clear that price can be the differentiating factor that encourages consumers to make a purchase. Being your most powerful profit lever, pricing matters a lot, but it's not the only factor that matters. Use these best practices of the price skimming strategy to help your business succeed and stay ahead of the pack.
Don't let your product get lost in a sea of competition, dare to be unique and outstanding!