Fancy establishing your market positioning, gaining traffic, and enlarging sales? Learn how to price your products properly.
Pricing Strategies Or How To Drive Both Revenue And Profit?
Being an online business owner, differentiating from your competitor will get you new perspectives. And it's your price strategy along with the decent quality of your goods/services that can be extremely influential in this case. With dozens of online business pricing strategies out there, choosing the proper one can be rather hard. Of course, there's no one surefire, formula-based approach that will be suitable for all businesses. Primarily, it's your ultimate product and currently available competitors that should be taken into account. There are several other issues that might influence your brand's price as well.
Below, we will examine the top 5 pricing strategies your online business might find beneficial. By the way, you may want to use not one, but a mixture of several strategies at once.
Top 5 pricing strategies for your online business to consider: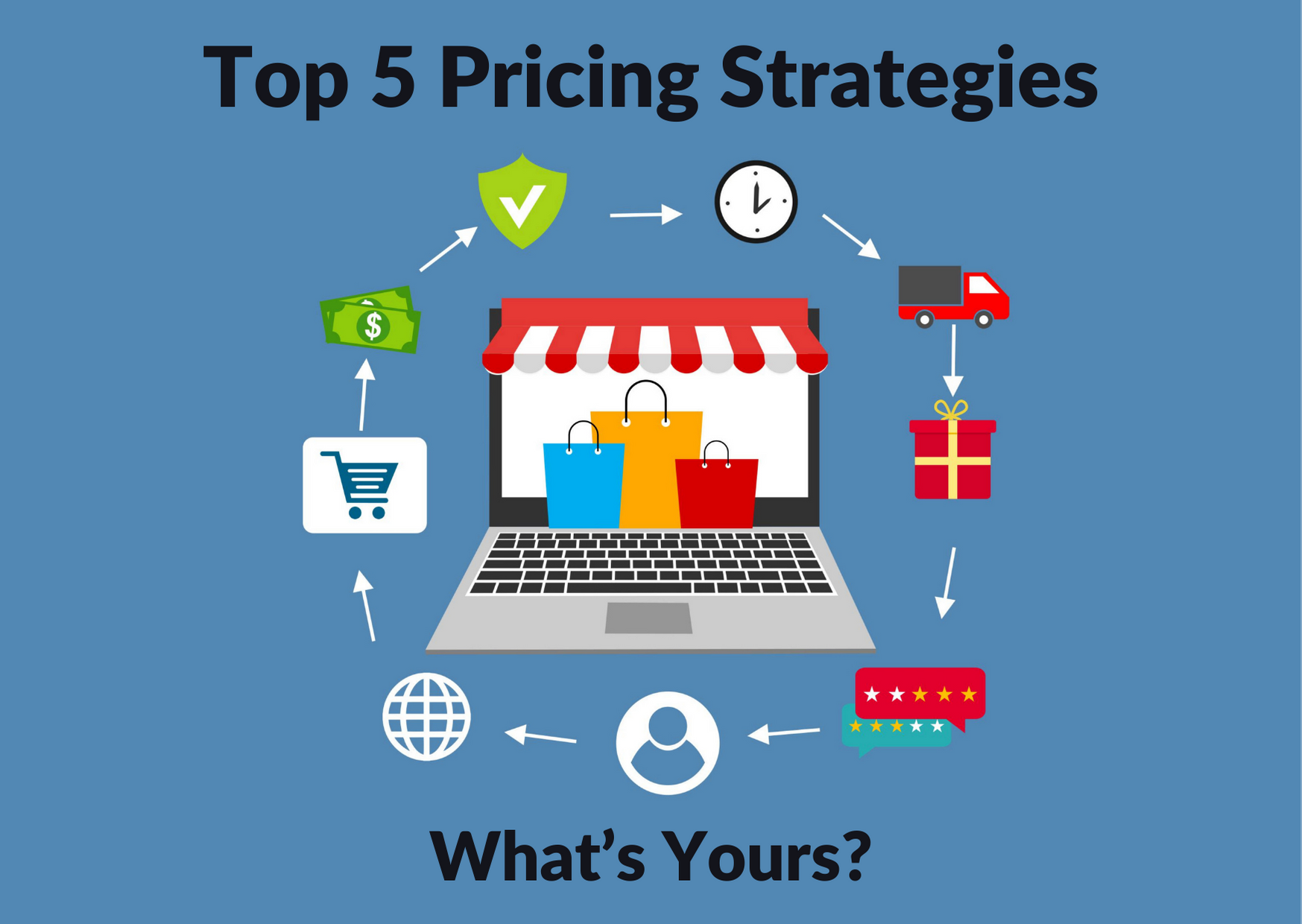 1. Penetration. This strategy suggests that your product is priced lower than the competitors' ones to drive sales during the initial release period. In that way, you'll gain market share and brand awareness. After you have stimulated sluggish sales, you'll need to enlarge your prices. But if you simply double your price tag, would people keep on purchasing your products? We roll the dice. Your customers should start loving your brand to remain loyal. Thus, it's crucial to offer something that does make a difference.
2. Discount Pricing. This strategy suggests that to stimulate sales, you mark down the prices of your merchandise. Use it if you need to boost sales, clear old inventory, or simply augment your customer traffic. It goes without saying that everybody loves discounts, sales, vouchers, or coupons. And that's why your customers will adore this strategy, but be careful, use it wisely. To take full advantage of it, don't forget to mention the expiration dates, limits on discounts, and encouraging CTAs. Before we go further, here's the conundrum: it's impossible to succeed by running a discount promotion only. You'll need to stop it otherwise you risk losing all your money. So, ensure to set the date the discount pricing strategy will end and think about what strategy will come next.
3. Bundle pricing. As this pricing strategy suggests, a brand comes with a bunch of products that are cheaper to buy together rather than getting each item individually. For instance, you go to a fast-food restaurant and you see that it's cheaper to buy a meal in a bundle (hamburger + Coca) than it is to buy each item individually. With this being the case, this strategy does two important issues: it helps to cut down inventory, and it reinforces the perceived value in the eyes of your customers since they believe that they're getting more bang for their buck.
4. Dynamic pricing. This type of strategy is based on the product's real-time supply-demand, offering different prices to users with regard to the market demand. It's commonly used by hotels, airlines, or event venues businesses. Needless to add that the price in this strategy depends on several other factors, such as the user's time and location, the place from which they are ordering, and the product itself that is being ordered. Dynamic pricing is the best type of competitive pricing as it can be automated. Are you now wondering how to get this dynamic price and automate it? Everything is pretty straightforward: use uXprice. Not only that it lets you check the prices of the products your competitors offer, but also it would suggest the best price to put on the goods. Once automated, the program will analyze the prices of your competitors and change prices in your online store depending on the rules you set.
5. Premium pricing. Everything is pretty straightforward here: Despite offering similar products, you have higher prices compared to your competitors. But putting a price above the standard market value is not enough, you have to come with something special and go the extra mile, conveying a sense of exclusivity. Set standards others follow. Another important thing to do here is to clearly state your price. Yes, don't hide your expensive price, instead, explain what your customers can get extra for it. Here are some brands that have successfully implemented the premium pricing strategy: Apple, Tesla, Rolex, and HubSpot.
As you can see, there are many pricing strategies out there. Noteworthy is to add that when it comes to e-commerce pricing strategies, we have to admit that there is no "one size fits all"-solution. For one product, bundle pricing would be an effective pricing strategy whilst for the other product, a combination of dynamic pricing, discount pricing, and bundle pricing would be the smartest possible way to go. Meanwhile, there's another product that will benefit from the appearance of a luxury brand.
The Bottom Line
There are plenty of pricing strategies out there, but as we said before, there is no "one size fits all"-solution. A price strategy is not just a made-up number, it's a careful examination of all your business requirements, aims, and possibilities first of all. Once you figure out the best pricing strategy for your business, you will get closer to your big goal.
Anyway, we said it before and we will say it again: regardless of the strategies you choose, the first rule is to come with a good quality service/product. Makes sense, right? Moreover, ensure you're being fair and honest with your customers; that can bring you lasting benefits. Good luck!
Here are some interesting materials for you:
Google Shopping Campaign Optimization Made Easy and Effective
How To Implement A Competitive Pricing Strategy That Is Hard To Beat